Calendar of Events
Highlights of Past Seasons

Our Instruments
Our Costumes
History & Highlights
St. Nicholas Church

Buy Our CD
Video

Testimonials

Contact, volunteer, or join!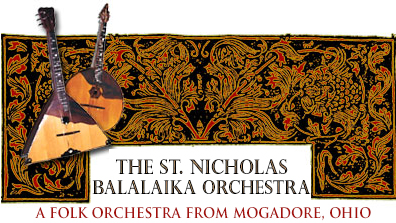 ---
ABOUT THE ORCHESTRA: Our History
About Our Instruments

Our Costumes

History & Highlights
St. Nicholas Church
History & Highlights
OUR HISTORY
The St. Nicholas Balalaika Orchestra is now in its 38th year. It is the only balalaika orchestra in the State of Ohio, and the only surviving church-based orchestra in the United States.

OUR MEMBERSHIP
The orchestra is an all-volunteer group of dedicated amateur musicians who are drawn to Slavic folk music and consider this their hobby. The musicians are from all walks of life and range from age 15 to 83. Their love of music and the pleasure they receive from sharing it with audiences everywhere has created a special bond that ties all generations together.

OUR DIRECTOR
Director Mary Jane Malackany, born in Pennsylvania, studied under Father Dimitri Ermakov in McKeesport and performed with the Balalaika Strings of Western Pennsylvania. She is an active member of the < a href="http://www.bdaa.com/">Balalaika and Domra Association of America, an energetic church and community volunteer, a wife, and a mother of four children.

HIGHLIGHTS
Since its inception, The St. Nicholas Balalaika Orchestra has had dozens of challenging opportunities and memorial events, including:
Hosting the 2006 BDAA Convention
Performances with the Firelands Symphony Orchestra in Sandusky, Ohio
Performances with the Tuscarawas Philharmonic Orchestra in New Philadelphia, Ohio
Participation in the gala opening of the "Faberge in America" tour at the Cleveland Museum of Art
Performance at The Youngstown Symphony Guild "Russian Rhapsody Ball," held at the historic Edward G. Powers Auditorium in Youngstown, Ohio
Featured performances at 22nd International Convention of The Balalaika and Domra Association (Pittsburgh, Pa.) and the 25th Anniversary Convention (Washington, D.C.)
Serving as exclusive musical entertainment at the Russian Brotherhood Organization Supreme Conventions in both Scranton and Pittsburgh, Pa.
Numerous prestigious concerts, festivals, and cultural events.