Calendar of Events
Highlights of Past Seasons

Our Instruments
Our Costumes
History & Highlights
St. Nicholas Church

Buy Our CD
Video

Testimonials

Contact, volunteer, or join!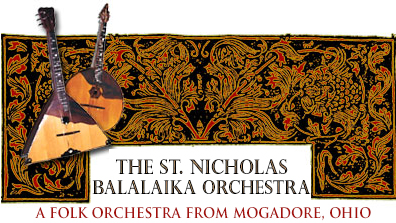 ---
HIGHLIGHTS OF PAST SEASONS
Since its inception, The St. Nicholas Balalaika Orchestra has had dozens of challenging opportunities and memorial events, including:
Performances with the Firelands Symphony Orchestra in Sandusky, Ohio
Performances with the Tuscarawas Philharmonic Orchestra in New Philadelphia, Ohio
Participation in the gala opening of the "Faberge in America" tour at the Cleveland Museum of Art
Performance at The Youngstown Symphony Guild "Russian Rhapsody Ball," held at the historic Edward G. Powers Auditorium in Youngstown, Ohio
Featured performances at 22nd International Convention of The Balalaika and Domra Association (Pittsburgh, Pa.) and the 25th Anniversary Convention (Washington, D.C.)
Serving as exclusive musical entertainment at the Russian Brotherhood Organization Supreme Conventions in both Scranton and Pittsburgh, Pa.
Numerous prestigious concerts, festivals, and cultural events.