Calendar of Events
Highlights of Past Seasons

Our Instruments
Our Costumes
History & Highlights
St. Nicholas Church

Listen to us

Testimonials

Contact, volunteer, or join!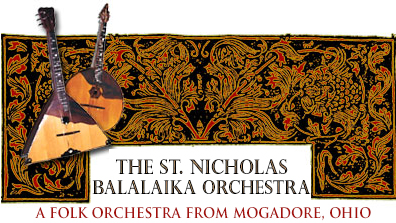 ABOUT THE ORCHESTRA
Our Instruments

Our Costumes

History & Highlights
St. Nicholas Church
Our Costumes
Orchestra costumes are the traditional attire of Russian culture. The overall appearance and details—the fabric, color combination, and trim—have been faithfully preserved through many generations. Little has changed since the 17th and 18th centuries, and regional differences in style, color, and trim have remained consistent.

Russian peasants had none of the gold or precious metals valued so highly by other cultures. Rather, they made use of what they had: flowers, ribbons, bright colors, simply patterns, and most of all, traditional embroidery.
Ladies' Costumes are fashioned after the Russian sarafan, which an expanding downward sleeveless garment with embroidered trim. The sarafan is worn over a shirt or blouse with a high collar and long bloused sleeves with an embroidered trim.

Men's costumes are influenced by uniforms of both the Russian Cossacks and the sailors. Shirts are fashioned after the Russian rubashkas with a wide neck opening, high collar, long bloused sleeves, embroidered trim, and braided belt.